Rehabilitation Professionals
Our Rehabilitation Therapists rely upon each other's strengths and passion to deliver excellence in service each and every day. Join us and experience our commitment to teamwork firsthand.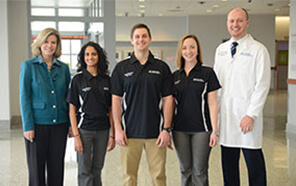 Become a LVHN Nurse!
LVHN is a designated Magnet™ hospital by the American Nurses Credentialing Center. Connect with a recruiter today to learn more.
Graduate
Nursing
1 out of 10
Hospitals in Pennsylvania to have a nationally recognized nurse residency program
We support newly licensed registered nurses through the Vizient Nurse Residency Program.
Meet our Colleagues
Hear what our employees have to say about working at LVHN.
Throughout my nursing career, I have been surrounded by outstanding role models–real leaders who willingly share their expertise!

Pat Karo;

Friends of Nursing Recipient, Jeffrey J. Hitchings Award for Excellence in Education
Almost all I have learned is from awesome colleagues and mentors, from actual clinical experiences, and from educational conferences.

Diane Munczinski, BSN, RN, CCRN;

Friends of Nursing nominee
I have been amazed by so many nurses: their intelligence, attention to detail, capacity to care. It is easy to be inspired every day.

Jill Peoples;

Friends of Nursing Recipient, Award for Excellence in Neuroscience Nursing
From my co-workers I've learned compassion and sharing. My patients have taught me about strength, patience and courage, hope and caring.

Janette Tough RN, OCN;

Friends of Nursing Recipient, Cancer Center Leadership Council Excellence in Cancer Care Award
There is no shortage of learning experiences in nursing. That's what makes this the most interesting and rewarding career out there.

Caitlin Hertzog, BSN, RN, CMSRN;

Friends of Nursing nominee
Lehigh Valley Hospital has ranked among U.S. News & World Report's "Best Hospitals" for 20 consecutive years.

LVHN is a Magnet™ Hospital, recognized three times by the American Nurses Credentialing Center for attracting and retaining the best professional nurses.

Lehigh Valley Hospital and Lehigh Valley Hospital-Muhlenberg each received an A grade in The Leapfrog Group's Spring 2015 Hospital Safety Score, the highest grade in patient safety.