Administrator - LVHN Surgery
Job ID:
64582
Schedule:
full time 40 hours
Shift:
Day shift
Department:
LVPG Administration
Hours:
M-F; 8a-5p variable
Location:
Allentown PA
Our people make Lehigh Valley Health Network a great place to work. Join us in applying for our Administrator – LVHN Surgery position in the LVPG Administration department.

Be part of inspiring passion. At Lehigh Valley Health Network (LVHN), the deep connection we have with our patients and with each other is undeniable. In fact, we rely upon each other's strengths and passion to deliver exceptional patient satisfaction and high quality service each and every day.

The Lehigh Valley Physician Group is one of largest and most respected medical group practices in the U.S. We are the employed provider group for the Lehigh Valley Health Network, a top 30 U.S. News and World Report Health System, top 50 Healthgrades system, and one of the few national partners for the Memorial Sloan Kettering Cancer Center. We are over 1,400 employed providers, 3,500 colleagues, 200 practices and serve as the clinical leadership and clinical engine for our 7 hospital, 17,000 employee super-regional network. We are an Accountable Care Organization well on our way to a robust population health model and we care for half of the population of the Lehigh Valley. We are a growing, progressive, innovative group practice recognized nationally and regionally for our clinical care and operational best practices.

Job Description: Responsible for organizing and directing the provision of Lehigh Valley Physician Group (LVPG) medical practice services for the Surgery Divisions. Working through subordinate administrators, directors and/or managers, provides administrative, financial, operational, and tactical oversight and direction to all medical practices in assigned Divisions. This work includes the areas of finance such a budgets, revenue cycle and expenses; strategic planning, business plan development and marketing; and advancement of clinical division and/or practice services as well as evaluating the quality and effectiveness of services provided. As the Network Administrator, provides operational support to the Chairman and Vice Chair of the Dept. of Surgery. Accountable for directing and/or providing oversight of all administrative functions within the Department of Surgery. These responsibilities include areas such as financial controls (i.e., budgets, physician billings, extramural funding, expense management; strategic planning, marketing, advancement Surgery services and addressing the continuum of care. Provides leadership to and facilitative support of Departmental programs. This position will have a dual/solid line reporting relationshp to Associate Executive Director of LVPG and to the Chair, Department of Surgery.

Minimum Requirements: Master's degree in related field, or Bachelor's degree and equivalent experience for Master's level. Minimum ten (10) years experience in management of day-to-day operations of a complex healthcare environment and/or medical practice. Possess working knowledge of management systems, medical practice operations, finance operations, program development and growth, healthcare coding and compliance issues.

Preferred Qualifications: Master's degree strongly preferred.

Licensure and Certifications: N/A

Influenza vaccination is required for all colleagues with patient contact unless medically contraindicated or due to a bona fide religious belief or practice, and is strongly encouraged for all colleagues.

Lehigh Valley Health Network is an equal opportunity employer. In accordance with, and where applicable, in addition to federal, state and local employment regulations, Lehigh Valley Health Network will provide employment opportunities to all persons without regard to race, color, religion, sex, age, national origin, sexual orientation, gender identity, disability or other such protected classes as may be defined by law. All personnel actions and programs will adhere to this policy. Personnel actions and programs include, but are not limited to recruitment, selection, hiring, transfers, promotions, terminations, compensation, benefits, educational programs and/or social activities.

htftm

Life In The Lehigh Valley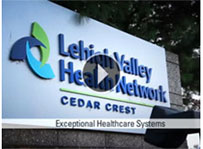 Lehigh Valley Hospital has ranked among U.S. News & World Report's "Best Hospitals" for 20 consecutive years.

LVHN is a Magnet™ Hospital, recognized three times by the American Nurses Credentialing Center for attracting and retaining the best professional nurses.

Lehigh Valley Hospital and Lehigh Valley Hospital-Muhlenberg each received an A grade in The Leapfrog Group's Spring 2015 Hospital Safety Score, the highest grade in patient safety.