Care Manager-Population Health
Job ID:
64304
Schedule:
full time 40 hours
Shift:
Day shift
Department:
Population Health
Hours:
8:00-16:30
Location:
Allentown PA
Our people make Lehigh Valley Health Network a great place to work. Join us in applying for our Care Manager-Population Health position in the Population Health department.

Be part of inspiring passion. At Lehigh Valley Health Network (LVHN), the deep connection we have with our patients and with each other is undeniable. In fact, we rely upon each other's strengths and passion to deliver exceptional patient satisfaction and high quality service each and every day.

Lehigh Valley Hospital has ranked among U.S. News & World Report's "Best Hospitals" for 22 consecutive years. LVHN is also a Magnet™ Hospital, recognized four times by the American Nurses Credentialing Center for attracting and retaining the best professional nurses. These recognitions highlight LVHN's commitment to teamwork, compassion, and technology.

Job Description: Functions as a member of the Population Health interdisciplinary team. Coordinates input from all health professionals, conducts assessments of patient/family needs and formulates a documented plan assuring continuity of care for the highest risk patients or those patients at risk for poor outcomes. Functions as a coordinator and manager of a defined health population across multiple care settings and for multiple physicians/health care providers, across the care continuum.

Minimum Requirements: A high school diploma or equivalent and, a bachelors of science in nursing degree (BSN) is required. Pennsylvania Registered Professional Nurse licensure (RN) is required Experience in lieu of BSN may be considered. A minimum of five (5) years of experience required in at least one of the following settings: case management, disease management, home health care, hospital or physician office setting. Knowledge of nursing theory and application of learning theory is required. Must have knowledge of computer applications and analytical tools. Must have the ability to work independently, setting priorities to coordinate care plan efficiently; Recognize the role of cultural, social, economic and behavioral factors in accessibility, availability, acceptability, and delivery of public health services, and respond to diverse needs that are a result of these differences; Incorporate strategies for interacting with persons from diverse backgrounds (e.g. cultural, socioeconomic, educational, racial, gender, age, ethnic, affiliation, mental and physical capabilities). Proven leadership skills is required. Position requires effective communication skills (oral and written); Excellent customer service skills; Effective behavioral and educational strategies, including, but not limited to, motivational interviewing, teach-back method and self-management support. Certification in Care Coordination and Transition Management (CCCTM) required within three (3) years of hire.

Preferred Qualifications: Masters of science degree in nursing (MSN); Prior electronic medical record (EMR) experience; Bilingual preferred, if defined practice/population requires; Previous project leadership experience.

Licensure and Certifications: Pennsylvania Registered Professional Nurse licensure required.

Influenza vaccination is required for all colleagues with patient contact unless medically contraindicated or due to a bona fide religious belief or practice, and is strongly encouraged for all colleagues.

Lehigh Valley Health Network is an equal opportunity employer. In accordance with, and where applicable, in addition to federal, state and local employment regulations, Lehigh Valley Health Network will provide employment opportunities to all persons without regard to race, color, religion, sex, age, national origin, sexual orientation, gender identity, disability or other such protected classes as may be defined by law. All personnel actions and programs will adhere to this policy. Personnel actions and programs include, but are not limited to recruitment, selection, hiring, transfers, promotions, terminations, compensation, benefits, educational programs and/or social activities. #LI-DG1

Life In The Lehigh Valley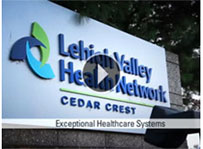 Lehigh Valley Hospital has ranked among U.S. News & World Report's "Best Hospitals" for 20 consecutive years.

LVHN is a Magnet™ Hospital, recognized three times by the American Nurses Credentialing Center for attracting and retaining the best professional nurses.

Lehigh Valley Hospital and Lehigh Valley Hospital-Muhlenberg each received an A grade in The Leapfrog Group's Spring 2015 Hospital Safety Score, the highest grade in patient safety.