Clinical Health Coach, RN - BeneFit
Job ID:
62843
Schedule:
full time 40 hours
Shift:
Day shift
Department:
Benefit
Hours:
M-F; 8:30a-5:00p
Location:
Allentown PA
Our people make Lehigh Valley Health Network a great place to work. Join us in applying for our Clinical Health Coach, RN position in the BeneFit department within Populytics.

At Populytics, our mission is to increase the quality and value of the patient experience through advanced health care analytics insights and comprehensive population health management. We transform claims and clinical data into actionable strategies and solutions.

Populytics is built upon a rich foundation of health industry expertise and superior technology assets. Skilled informatics specialists, business professionals, physicians, nurses, pharmacists, social workers, behavioral health specialists, and educators are all part of the Populytics team. Our corporate wellness arm employs Master Certified Health Education Specialists (MCHES), and certified health and wellness coaches who are experts at one-on-one and group motivation. Every professional on staff has direct experience working with a leading health network ranked by US News & World Report for 21 consecutive years as one of America's Best Hospitals.

Job Description: Provides Population Health support to assigned participants utilizing evidence-based research, best practices and department standards. Support includes the following: Providing one-on-one telephonic and/or in-person health and wellness coaching services to participants. Engaging in a collaborative process to assess the health status of an individual and develop personal action plans that promote wellness and help individuals realize their personal best. Support individuals to understand and adhere to their clinical care plan by assessing knowledge gaps, providing education, and collaborating with the participant to take steps toward improving their health. Assists in identifying actual and potential risk to patients and takes appropriate action to minimize risk. Engages, educates, and promotes/influences individuals in decisions related to achieving and maintaining optimal health status. Providing coordination of care across the continuum including identifying at risk, high risk populations needing care coordination; acts as a liaison with families, physicians, clinical staff, and community resources. Collaborates with team, departments, and practices to provide the best possible care and outcomes for participants.

Minimum Requirements: A bachelor's degree in nursing from an accredited nursing education program and current Pennsylvania Registered Nurse license is required. A minimum of two (2) years of clinical nursing experience in one or more of the following areas: medical-surgical acute care, cardiology, pulmonology, respiratory, and/or endocrinology settings is required. Must have: demonstrated knowledge of the disease process and its management; strong desire to educate, motivate and support individuals with risk areas in weight management, tobacco use, nutrition, physical activity and/or stress management, work/life balance, and general health. Excellent computer skills including MS Office applications such as Word, Excel, Outlook and PowerPoint required. Wellness coaching certification required within one (1) year of hire. BLS certification/renewal required within one (1) year of hire. Requires the ability to creatively problem solve, to work within a self-directed work team environment, work independently with minimal supervision and to use good judgment to make sound decisions. Perform as required individual assessments and appropriate education. Excellent verbal and written communication and presentation skills. Strong time-management skills and ability to handle multiple priorities. Ability to interact with a wide variety of individuals, environments including business and industry, internal staff, hospital departments, community organizations and health insurance companies. Work within a multidisciplinary team.

Preferred Qualifications: Master's degree in nursing, health education, community health education, public health, social work, nutrition, or psychology; Health Coaching Certification and/or training in motivational interviewing, active listening skills, and application of the Transtheoretical Model; specialty certifications in respiratory and/or diabetes; experience in medical management, case or disease management, health insurance or related field; one (1) year of experience working as a Health and Wellness Coach/Clinical Coaching or experience using readiness to change, motivational interviewing, goal setting, and resolution techniques to assist participants in developing individualized plans for successful behavior change; background in disease/condition management and wellness; enjoys public speaking and willingness to provide engaging educational presentations.

Licensure and Certifications: Wellness coaching certification required within one (1) year of hire. BLS certification/renewal required within one (1) year of hire. Health Coaching Certification preferred.

Influenza vaccination is required for all colleagues with patient contact unless medically contraindicated or due to a bona fide religious belief or practice, and is strongly encouraged for all colleagues.

Lehigh Valley Health Network is an equal opportunity employer. In accordance with, and where applicable, in addition to federal, state and local employment regulations, Lehigh Valley Health Network will provide employment opportunities to all persons without regard to race, color, religion, sex, age, national origin, sexual orientation, gender identity, disability or other such protected classes as may be defined by law. All personnel actions and programs will adhere to this policy. Personnel actions and programs include, but are not limited to recruitment, selection, hiring, transfers, promotions, terminations, compensation, benefits, educational programs and/or social activities. #LI-DG1

Life In The Lehigh Valley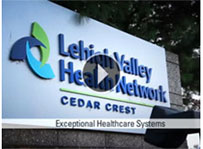 Lehigh Valley Hospital has ranked among U.S. News & World Report's "Best Hospitals" for 20 consecutive years.

LVHN is a Magnet™ Hospital, recognized three times by the American Nurses Credentialing Center for attracting and retaining the best professional nurses.

Lehigh Valley Hospital and Lehigh Valley Hospital-Muhlenberg each received an A grade in The Leapfrog Group's Spring 2015 Hospital Safety Score, the highest grade in patient safety.