Interv Rad Tech Weekend
Job ID:
64481
Schedule:
weekend program
Shift:
Day shift
Department:
Vascu/Interventional Radiology
Hours:
S/S 7a-7:30p
Location:
Allentown PA
Performs with latitude for independent judgement, ingenuity, and initiative, special procedure exams which involve insertion of catheter into major vessels and high pressure injection of contrast material into these vessels as directed by physician. Participates in on-call rotation. Performs imaging examinations using established procedures with a level of knowledge acquired through completion of two to three years of occupationally specific education. Must have a general understanding and working knowledge of radiation producing equipment. Graduate of AMA approved School of Radiologic Technology. Minimum two (2) years as a staff technologist. Must possess a high degree of maturity and exercise individual judgement in working with patients, equipment, and personnel that are involved in vascular interventional exams. Must be able to work under stressful situations. Must be able to deal effectively and ethically with medical and confidential information relating to patients, families, physicians, and nursing personnel. Must present a professional relationship with co-workers and medical staff.

Life In The Lehigh Valley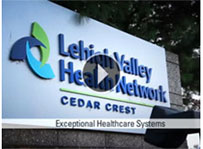 Lehigh Valley Hospital has ranked among U.S. News & World Report's "Best Hospitals" for 20 consecutive years.

LVHN is a Magnet™ Hospital, recognized three times by the American Nurses Credentialing Center for attracting and retaining the best professional nurses.

Lehigh Valley Hospital and Lehigh Valley Hospital-Muhlenberg each received an A grade in The Leapfrog Group's Spring 2015 Hospital Safety Score, the highest grade in patient safety.