RN Physician Practice
Job ID 2177
Company LEHIGH VALLEY PHYSICIANS GROUP
Industry LVPG OB/GYN Easton
Shift Day Shift
Schedule Full Time 40 hours
Location Easton, Pennsylvania
Job Summary: The Registered Nurse (RN) provides care to designated patients within the Pennsylvania Registered Nurse Scope of Practice. Provides care coordination across the continuum. Participates in Network quality improvement initiatives. Demonstrates annual competence with clinical skills, clinical equipment, and electronic medical record system. Performs administrative functions as necessary.

Minimum Requirements: Graduate of an accredited school of nursing.Current Pennsylvania Registered Nurse (RN) license.

Demonstrates initiative and is able to function independently as well as collaboratively. Demonstrates the ability to initiate, accept, and adapt to change. Demonstrates time management and organizational skills. Accepts and recognizes differences among people. Demonstrates strong communication skills. Excellent computer skills including EMR, word processing, and Excel.

Preferred Qualifications: Bachelor?s of Science degree in Nursing (BSN). One (1) year experience as an RN. Experience in a physician office practice setting. Active member of a professional nursing organization.

Licensure and Certifications: Current Pennsylvania Registered Nurse (RN) license. Current BLS (provided during LVPG Orientation).
Life In The Lehigh Valley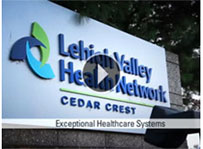 Lehigh Valley Hospital has ranked among U.S. News & World Report's "Best Hospitals" for 20 consecutive years.

LVHN is a Magnet™ Hospital, recognized three times by the American Nurses Credentialing Center for attracting and retaining the best professional nurses.

Lehigh Valley Hospital and Lehigh Valley Hospital-Muhlenberg each received an A grade in The Leapfrog Group's Spring 2015 Hospital Safety Score, the highest grade in patient safety.